For outdoor glass (e.g., solar panels and exterior windows): Invisible water repellent coating prevents stains and limescale, as well as repelling dust and enabling easy cleaning of bird droppings and other contaminants.
What is NANO-GLASS GL-2 ?
NANO-GLASS GL-2 is external harmless (hydrophobic) coating that repels light dusting, water stains and environmental pollution. It is an excellent oiliness repellant (oleophobic).
It is stable and does not disintegrate for many years. The robust UV durability does not impede the passage of light necessary for solar panels. This invisible coating focuses on the glass and does not harm the panel parts.
The coating prevents the glass fogginess knowas as "whitening of the glass". The nanometric and ultra fine size, based on natural quartz material optimally developed for solar panels and exterior building facade glass.
It's intended to prevent adhesion of limescale, dust, soot, dirt, oils and mildew, reducing light dust as well as helping in the removal of bird droppings. The material excels in phenomenal attributes of self-cleaning (rain or a light wash are sufficient – the rolling of the drops on the surface causes accumulation of environmental dirt particles and their removal).
The combination of these attributes facilitates maximum utilization of high quality, long-term solar absorption, immediately after washing and in between washings.
The immediate result in terms of money:
increasing the monetary income from each panel!
savings and reducing labor costs which are necessary for the purpose of cleaning and maintenance.
The natural composition of the product ensures that no damage is done to the panels.
FOR MORE TYPICAL PROPERTIES & ADVANTAGES - REFER TO GL-1 ITEM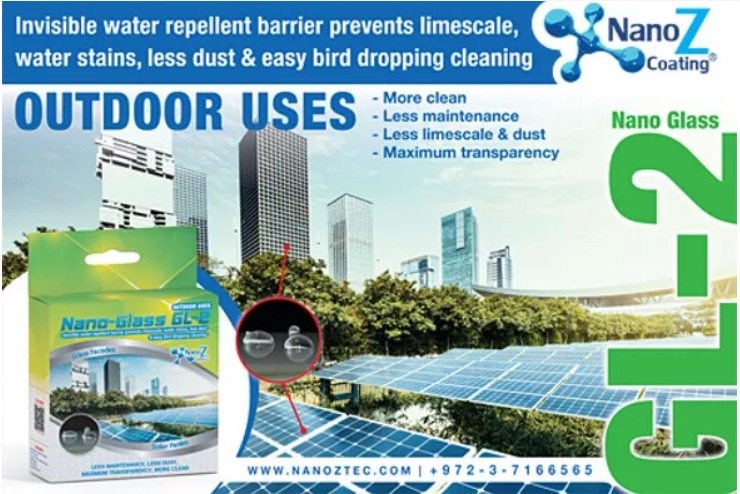 For all types of glass solar panels.
170 – 180 square meters per liter
1 liter | Gallon 3.8 liters | 19 liter container