Invisible anti-graffiti coating prevents absorption of spray paint into walls. Enables complete cleaning with no remaining "shadow" paint residue.
What is Nano Anti Graffiti?
Nano Anti Graffiti represents the new and durable generation of anti-graffiti coatings and is one of the world leaders as a Nano Anti Graffiti technology.
It is suitable for every mineral surface. Made of natural, invisible, "breathing" material that does not change the color or nature of the surface. This environmentally friendly coating was developed for maximum durability against vandalism.
The coating enables easy removal of graffiti and prevents it from becoming absorbed into the depths of the surface. In many cases, the graffiti immediately leaks off the surface and does not allow the paint to stick and penetrate into the surface.
In this manner NAG – Nano Anti Graffiti preserves the clean and aesthetic appearance of the object, protects and maintains, like new, the initial textural properties of the coated surface for a longer time.
Compared to existing standard chemical anti-graffiti products, this unique coating formula does not live the "shadow" effect that remains after the graffiti removal since it was designed to provide the coated surface "anti-adhesive" and anti paint penetration resistant properties.
Ancient and historic buildings, churches, urban walls, private and public buildings, malls, subway, statues, parks, highway and any other location that is prone to graffiti vandalism.
Characteristic attributes and advantages of the product:
Facilitates easy cleaning and removal of graffiti, without leaving a trace of the "shadow" of the graffiti, using standard means such as: high pressure water jet or water-based graffiti removal gel (from Nano Coatings) and therefore there is no need for using mechanical and/or strong chemical means that could damage the object.

Use of this unique Nano Anti Graffiti technology saves a great deal of money and provides the surface with protection and durability for a large number of removals! Other chemical materials decompose and have to be renewed immediately after each removal or at least 2 or 3 removals.

The robust "anti-adhesive" effect does not allow pollutants to penetrate deeply. When using other materials available on the market, a "shadow" of the graffiti remains after it is removed and is almost as ugly as the graffiti itself!

The "self-cleaning" effect of rain assists in keeping the surface cleaner of dust, scale, soot and so on! Spraying ordinary water at a pressure of up to 50 bar is sufficient even for removing bird droppings.

Colorless and odorless, it does not change or influence the color, texture or nature of the surface in any way.

The stable UV resistance is excellent as is the resistance to high environmental temperature. Other existing coating products decompose and vanish, especially in the sunlight and radiation.

Suitable for particularly absorbent mineral surfaces such as concrete, limestone, marble, granite, colored wall coating, blocks and so on.

Also suitable for use in a damp and/or seaside environment. 

Continuous periodic use strengthens the aforementioned properties and helps slow the rate of corrosion, disintegration and destruction of the coated surface for an extended period of time, also in harsh environmental conditions of dampness, sea dampness, bacterial pollutants, soot, mildew, fungi, green mold…

Completely durable under conditions of frost. ***Safe in the presence of food.

Can be self-applied using the "Nano Coating" dedicated sprayer or a standard industrial airless system.

The surface will actively repel water immediately after application and complete drying. Durability to cleaning abrasion will be effective only after 24 hours.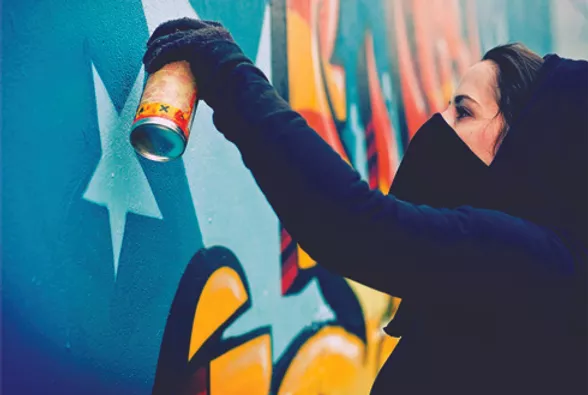 Amazing results at a very attractive cost per square meter, as a result of utilizing only very small amounts of material
What is the action of Nano Anti Graffiti?
Nano Anti Graffiti penetrates to the depths of the surface and creates the thinnest possible nanometric sized protective coating.
Nano Anti Graffiti cannot be defined as a "sealant" since by its action it does not fill the surface and seal it, but chemically attaches to and coats even the smallest possible contours of the surface. Thus the smooth "breathing" effect of the coated surface is achieved.
17—25 square meters/liter depending on the absorbency and texture of the surface.
Clean the surface well and rinse the dirt and dust off with clean water. (Although it is possible to spray also on a wet surface, it is recommended to spray it on a dry surface to see the coverage).

Spray well until the surface is completely damp without dripping. For economical and full spraying use the Nano Coatings sprayer or a standard industrial (airless) sprayer.

The surface is active to touch upon complete drying. Full durability is active 24 hours after application.

Do not expose to rain within the 24 hours after application.
500 ml / 3.8 liter/19 liter