PR-21 Concentrate "Diamond powder״ for gluing, sealing & welding
Instant bonding, ultra-high tensile strength adhesive. Simulates welding and soldering
A unique, innovative groundbreaking scientific technology that demonstrates adhesive and sealing capability, which simulates "welding" and soldering with regard to its bonding capability and final strength generating a transparent connective "welding seam".
It has the controlled ability to determine the adhesion thickness of a number of layers to increase his mechanical strength to create the perfect adhesion as well as filling in surfaces such as drilled holes. PR-21 is composed of powdered granules of high quality silicon compounds that are dissolved by cyanoacrylic group.
The uniqueness and innovativeness of the product in the field of adhesion, sealing and filling in, which connect to different materials groups, opposite in their attributes, hardness and flexibility, for example: steel to plastic, rubber to glass, wood to aluminum, aluminum to glass, stainless steel to fiberglass, plastic to copper, and more.
PR-21 bonds to most types of plastic, thermostatic and thermoplastic, both rigid and flexible, such as:
vinyl, ABS, acrylic, PET fiberglass, epoxy, polyurethane & more.  
For solid surfaces such as: steel, stainless steel, aerospace aluminum, copper, alloys, granite, concrete, ceramics, basalt, cement-bond, gypsum, asbestos, wood, glass, on painted and / or stable coated surfaces.  
For flexible surfaces, such as: cotton fabric, canvas, Gore Tex, polyester, leather, flooring and most types of rubber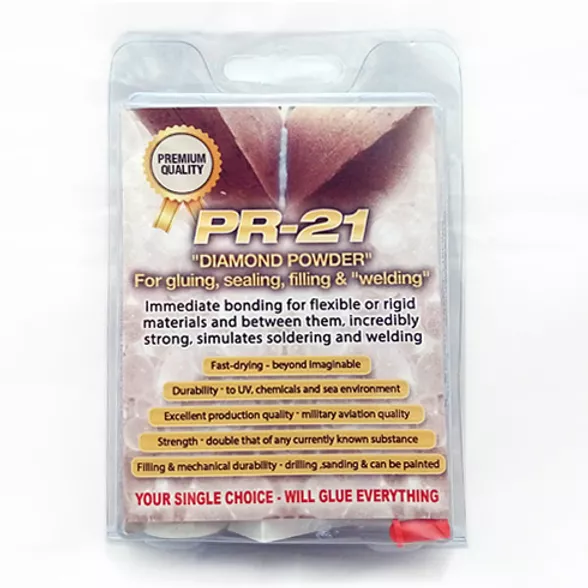 There's no need to buy dozens of different glues for different uses!!

Now the PR-21 concentrate is your single choice that will glue everything!!

PR-21 – a product unique in the world!!

Rapid drying – beyond comparison

Durability – to UV chemicals and can be painted

Strength – double that of any currently known substance

Filling and mechanical durability – facilitates drilling and sanding

Excellent production quality – military aviation quality

Universal – bonds almost any material to any rigid / flexible material
There's no need to buy different glues for different uses - USE ONLY PR-21