Water-based coating for concrete casting moulds enables easy mould/concrete separation and does not stain concrete
Metal / wood / clay moulds, to prevent absorption of grease / oil into concrete and for easy separation of the moulds after casting. MC-99 smoothing the surface & slips the concrete reduces air bubbles in the cast. Extends the life of metal moulds & wooden boards. Allows easy separation of the concrete moulds. For use in the construction industry infrastructures, bridges, tunnels, architectural, decorative concrete, interlocking stones, mosaics, sculptures, decorative concrete elements and more.
The coating creates a transparent micron-thin layer utilizing unique technology that facilitates high quality mould separation from the cast material. It can be applied by means of a roller or a standard spray (airless).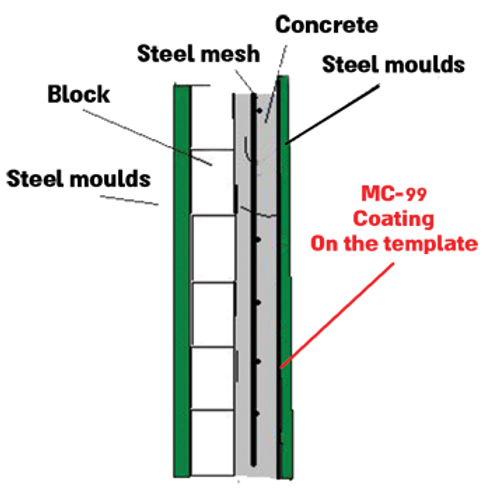 Result Recieved after Application:
Excellent, easy separation and a smoother, more aesthetic finish.

Facilitates full, smooth and easy streaming of the concrete within the space of the mold and thereby drastically reduces "tearing", holes or air bubbles after casting.

Prevents absorption of grease/oil into the concrete and thereby saves on costs of cleaning and removal, and therefore the plaster/paint remains clean without bubbling outwards of grease/oil stains.
Typical Attributes and Advantages of the Product:
The coating does not pass through, stain or contaminate the concrete/casting material.

Dissipates on its own after each use and is therefore not absorbed into the concrete/casting material or mold.

Does not pollute nor is it toxic to the user and the environment and therefore can also be sprayed.

There is no need to spread grease or other lubricants, and therefore there is no grease to be absorbed and contaminate the concrete/casting material.

Saves money on mechanical/chemical means and valuable work time necessary to clean and remove grease that was absorbed into the concrete after casting.

Leaves almost no residue on the mold and thereby saves a great deal on costs and work time required to clean the mold after removal.

Extends the quality and lifespan of the mold by ending the need to use strong mechanical means to clean residue.

Speeds up the workflow.

Is environmentally friendly, non flammable, toxic or dangerous to use or store like most lubricants.
Extremely attractive cost per square meter!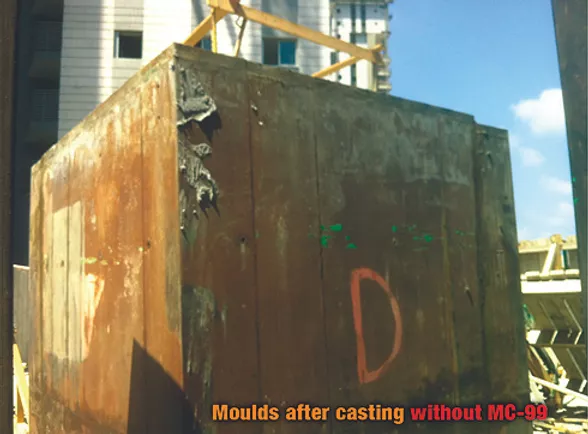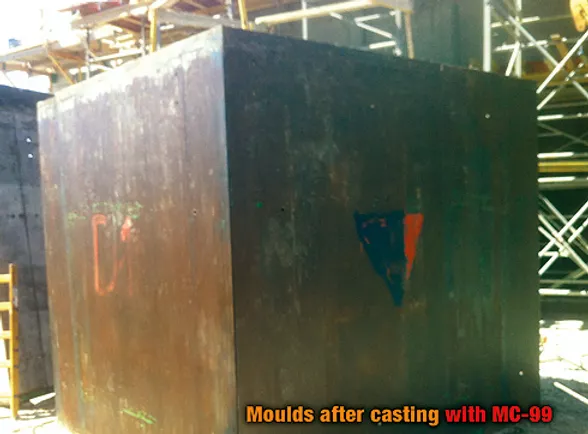 Prior to casting, and after each separation, rinse and clean well of any residue (of any kind) with clean water under pressure and wait for complete drying. (Depending on the nature of the mold it is possible to use regular faucet water pressure and a brush or an electric pressure washer at medium pressure about 150 bar).

According to specific needs or for a full/thorough cleaning of the residue of different materials from the mold, it is possible to use Z-300 for easy cleaning of grease/oil. In the case of remnants of concrete it is possible to use Z-500, which is intended for removal of cement and concrete (both products are manufactured by Nano Z Coatings) and/or mechanical means.

At the beginning of the workday or work session: stir the MC-99 well prior to every first use and spread thoroughly ensuring three crisscrossed layers. Wait for each layer to dry fully before applying the next layer.

Afterwards and prior to every casting: Apply a one generous layer using a soft brush/ thin roller/airless at standard pressure (low). Make sure to completely and thoroughly fill the entire surface. To be completely certain, spray crisscross (without spills) or two layers with a roller or soft brush after the first layer dries.

When applying to wood/clay molds: firstly seal with wood oil or lacquer and only afterwards work according to the instructions.

MC-99 is not harmful however it is recommended to wear gloves and a mask when spraying.

Do not apply when rain is expected, at freezing temperatures or strong winds.

Apply as close as possible to the time of actual casting and a maximum of 4-5 days prior to casting (near the sea, up to 3-4 days). If this time passes, it is necessary to apply an additional layer.
* Varies according to the type of mold and casting material.
On an average:
About 160 sq/m per gallon, 3.8 liters
About 720 sq/m per can, 19 liters
About 8,000 sq/m per barrel, 200 liters
In a cool shaded place. Avoid freezing.
3.8 liters, can of 19 liters