Invisible hydrophobic water-repellent coating for balconies and paved roofs
What is a Nano glass GL-3?
Nano-glass GL-3 is an invisible and ultra-thin coating (nanometric in size), water & oil repellent (hydrophobic + oleophobic) natural and environmentally friendly optimally developed for absorbent and porous surfaces in ceramic tile, porcelain, natural marble, and grout.
GL-3 presents an excellent barrier to absorbent flooring systems and therefore highly effective as additional strengthening, for failed sealing and drainage systems.
GL-3 has unique features of permanent "breath", does not change or affect surface hue or his nature as well as long-lasting water-repellent properties that help to prevent absorption and moisture.
GL-3 is an active hydrophobic feature allowing self-cleaning (during rain or rinsing) of dust, soot, and dirt because of the fast water drops rolling.
Bathrooms, sun terraces, paved roofs, showers, etc.
Hydrophobic – water repellent and moisture
Protects grout – absorbency, and mold
Does not change the surface hue – invisible
Strong UV stability – does not crumble or peel
Produces an efficient water barrier in addition to existing infrastructure
Application instructions:
* Read and understand MSDS before use
Clean and rinse the surface with soap and water. In case of severe lime scale use lime scale remover. Recommended Z-200 of Nano Z Coatings.
The surface must be completely dry
For deep macaroon cleaning use CW-101 (in the kit – gray bag)
Wait for full drying and evaporation for 2-3 minutes
Spray and disperse Nano Glass GL-3 coatings using a microfiber or high-quality cloth in rotary motion, without applying pressure onto the surface, half a square meter at a time. Spray a fine mist cloud 10-15 cm away. Avoid drops leaks.
Wait 10-15 minutes to dry and crystallize
Gently clean residues using rotary motion until the final shine achieved. Avoid applying pressure onto the surface.
Apply in the well-ventilated area at an ambient temperature of 5-40 degrees Celsius
A pre-test must done in a small, hidden place
Initial drying time: 3 hours: Final drying time: 24 hours
In case of application failure, the above actions can repeated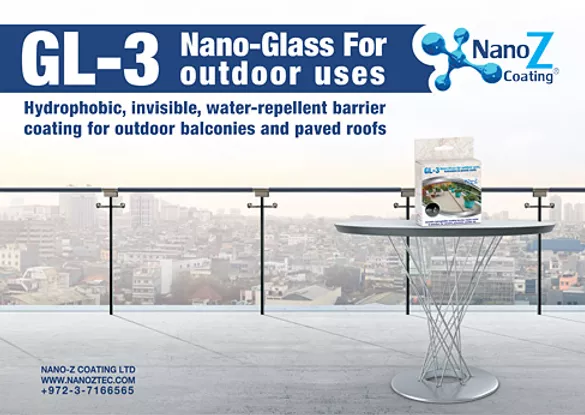 Ceramic / Porcelain: Up to 100 Sq/m / Liter depends on the nature and absorbency of the surface, grout gaps, surface structure, age, etc.
50 ml | 250 ml | 1 liter | 3.8 liters | 19 liters
In closed & original containers up to 18 months
Storage temperature 3-40 degrees Celsius
Ethanol-based product. Keep away from heat and fire. Stor in an indoor ventilated place.